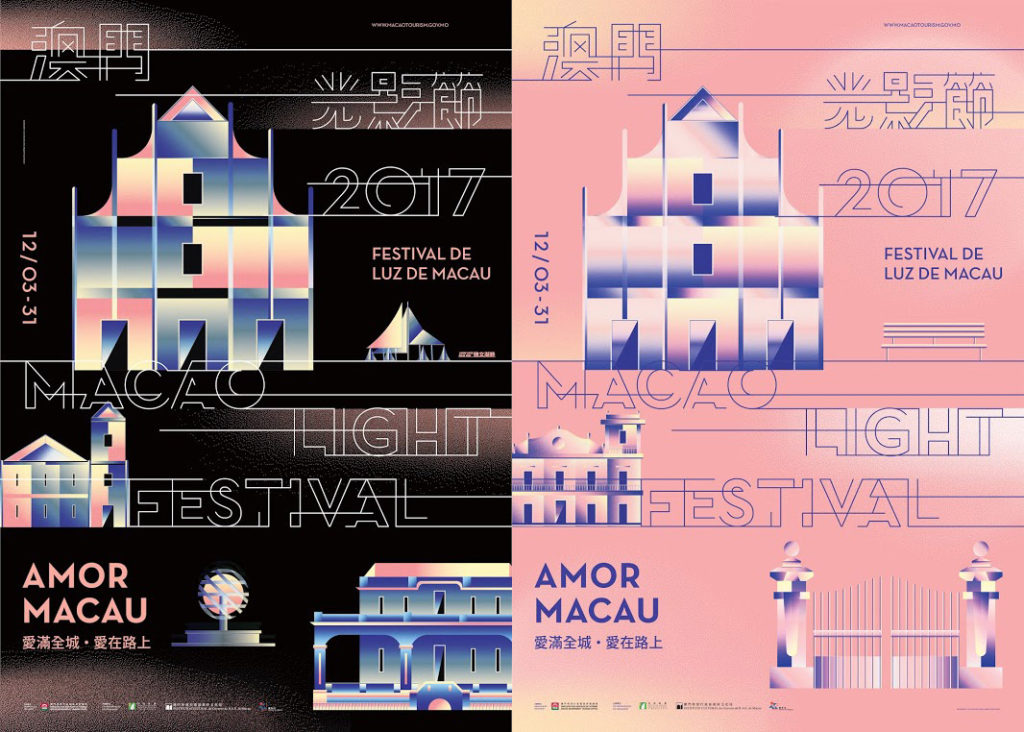 Macao Light Festival 2017
Organized by Macao Government Tourism Office, co-organized by Civic and Municipal Affairs Bureau, Cultural Affairs Bureau and Sports Bureau, Macao Light Festival will run from 3rd to 31st of December. This year, The Macau Design Centre collaborates with over a hundred local to create a customized light festival.
The theme of this year's festival, Amor Macau, will be presented in various forms and activities through Projection Mapping, Light Installations, Interactive Games, Exhibition, Dance, Mini Concerts, Movie screening, Light Dinner and so on, allowing participants of all age groups and visitors from around the world to take part.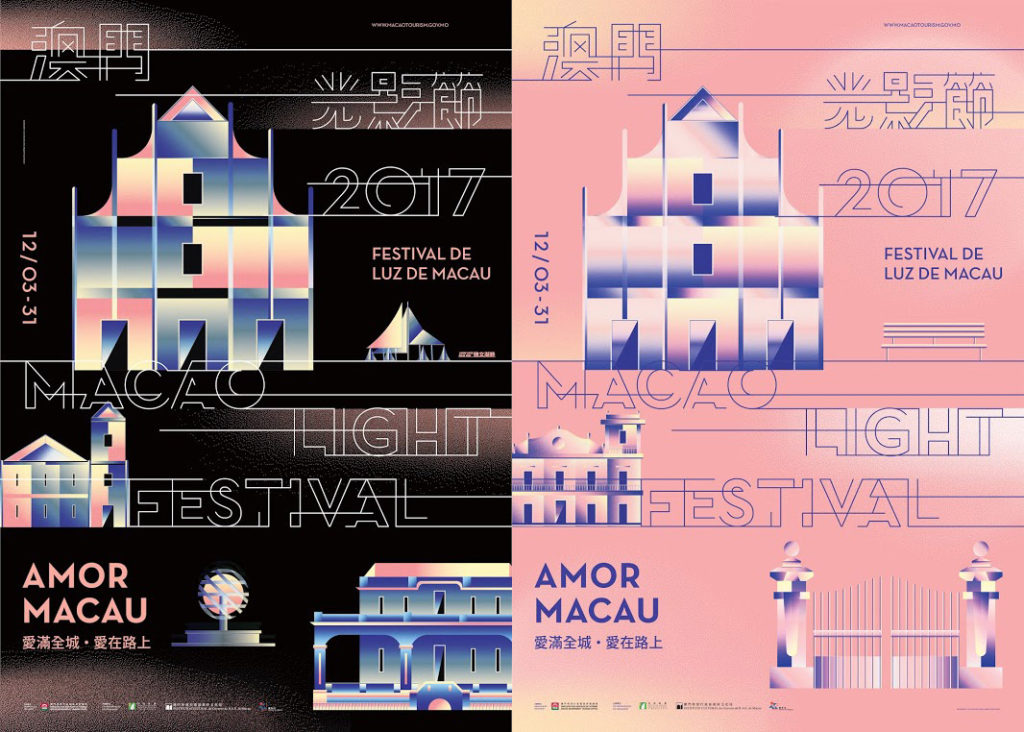 Amor Macau
Is Love unreachable or it's everywhere?
Perhaps you may not be aware that love has transcended the limit of time, space and form. It has transformed into everything within our city, in the form of light, shadow, nebula or colour or as long as you can see its presence. This festival set out on a light journey to exploring 8 different locations within the city and experience the love of  harmony, communion, life, family, friendship, mercy…… love never ends. Come experience this magical feast of love with us.
(Camões Garden) Embrace Integration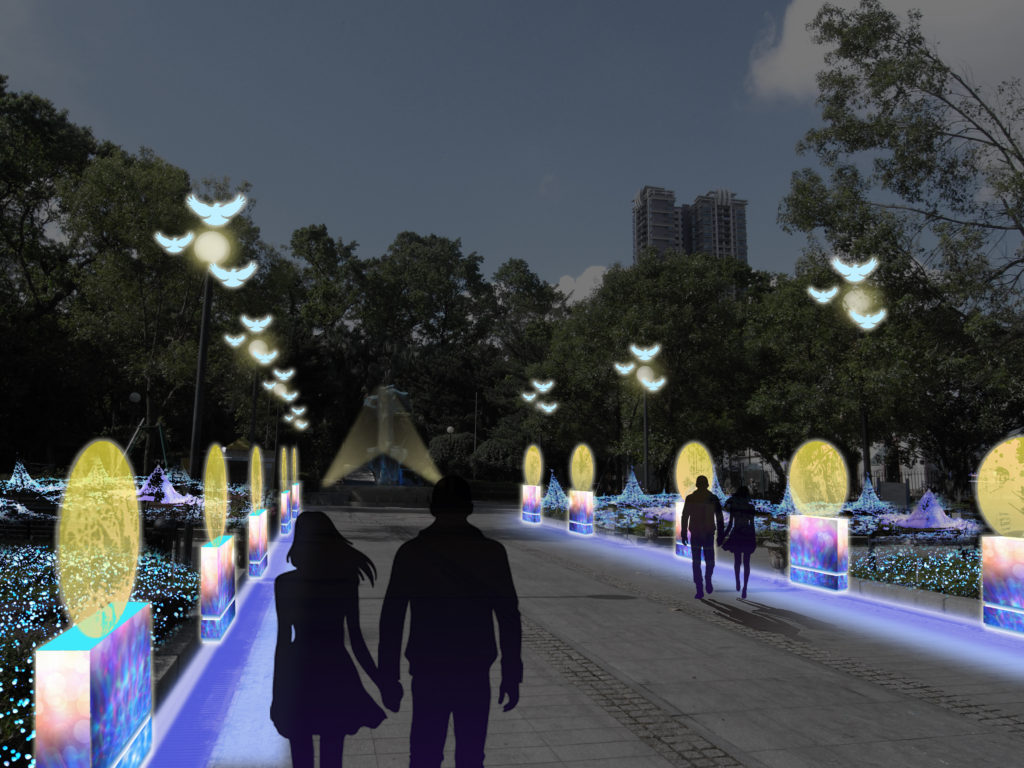 When the exploration fleet in the Age of Discovery crossed paths with the treasure ships of Zheng He setting sail for the 'Western Ocean'; when Catholicism met with Buddhism; when Luís de Camões came across a beautiful girl from a humble family in Macao, they beheld and embraced each other. Fate has brought us together. Love has bound us together. Here is where love merged together cultures from the East and the West and weaved a poetic and idyllic painting. History becomes romantic with a tint of fantasy. It is because of this deep-rooted love in our blood that we have not lost our tolerance in Macao, a tiny city that has witnessed over 400 years of cultural integration.
Empowered by the overwhelming love of the city, the great Portuguese poet Luís de Camões who lived in the now Luís de Camões Garden for two years composed the legendary epic poem The Lusiad which gives an account of the heroic legends revolving around Vasco da Gama during the Age of Discovery. Throughout its contact with the adventurers from foreign lands, Macao displayed the quality of peaceful co-existence and inclusiveness, which sustained this love-inspired story for a long time… Love started from hope, and has never died.
(St. Anthony's Church) The Lighthouse of Life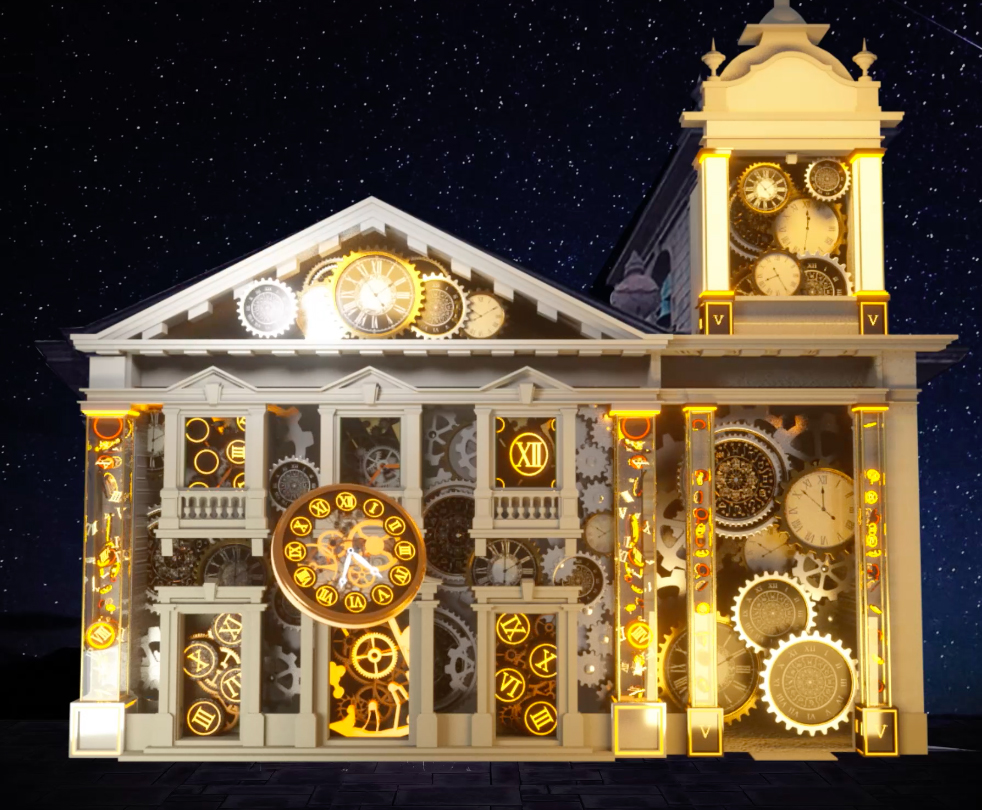 When the intensity and passion of love reach a certain point, it has to be witnessed by a marriage! 400 years ago, the Portuguese who sailed from across the ocean used to have their splendid wedding ceremonies held at the St. Anthony's Church. Unfortunately, there was a time a storm left Macao in complete darkness. Just when so many fishing boats were stranded and not able to return home, a fire broke out at the church which coincidentally became a lighthouse and brought the fishermen home safely. This holy place, laden with Portuguese wedding culture, speaks of sacrifice for love. It consumed itself and protected our ancestors, so has since become a token of love for life for the East and the West.
(The Taipa Houses) Happy Homestead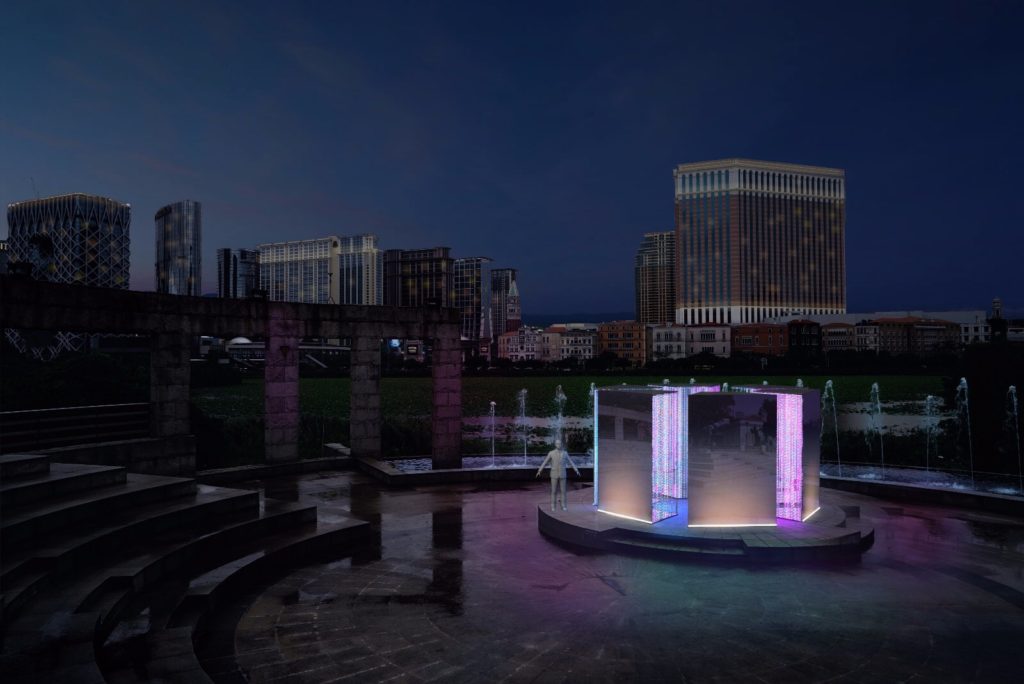 Love is the purest flower in the world. It sprouts, grows and bears fruit which is family. When you come to the Taipa Houses, you will realise that the happy homestead everyone is yearning for has always been among us. Every family, despite originating from different races, lives together in harmony. This demonstrated the cultural tolerance of Macao – an inclusive love that starts in this small city and goes beyond its boundaries. Under the glistening stars, the brilliance becomes timeless. Time seems to be frozen at this moment. Seize the moment, and now becomes forever. All the beautiful memories and wishes from the past have never faded. Under the starry sky, love is the most important thing of all, with which everything becomes possible.
(St. Lazarus Church and Calçada da Igreja de S. Lázaro) Mercy and Love for All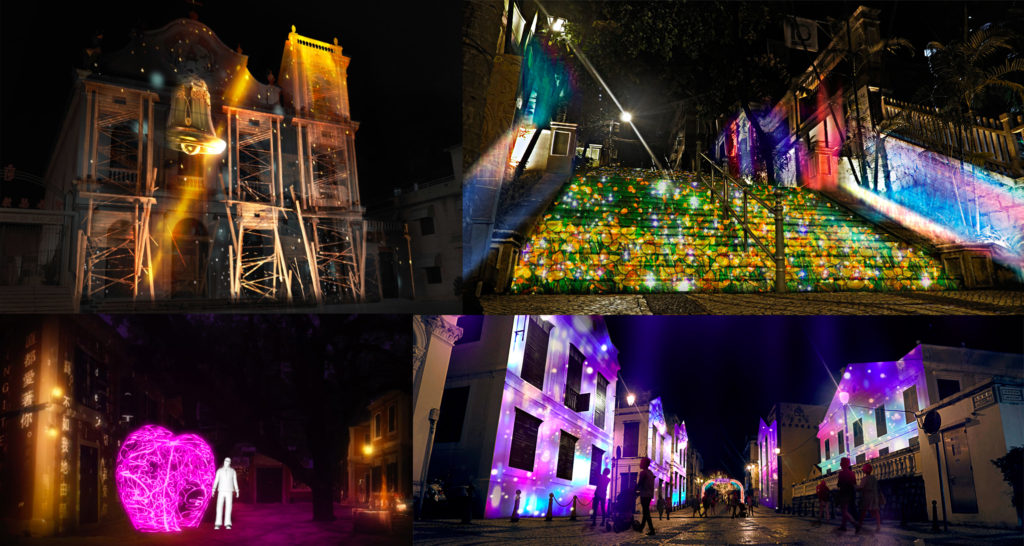 Love does not only exist between men and women and in families. When it grows and settles, it becomes 'mercy' – a love for the whole community, a love for all. History has shown us, the St. Lazarus Church was known for its philanthropism in its time. It was once a shelter for lepers and the cathedral for Catholicism in the Far East, and now, one of its nearby streets, the Calçada da Igreja de S. Lázaro, has become a cultural and creative seedbed for the younger generation, where they unleash their enthusiastic participation in society. The past is gone like a puff of smoke, but love has remained and elevated with the change of times to become a love for all.
(Centro Náutico da Praia Grande) The Maze of Flowers

Beware dangerous inside. Please think twice before you enter.
The thousands of roses here in the maze have no thorns but mysterious power. Under the power, you may lose yourself or even fall into delirium, as the roses are so beautiful that you cannot help smiling even when you have lost your way.
If you think the Earth is too boring, you can go under the canopy of heaven and send your wishes up to the sky with sky lanterns. Children may just want a can of coke, but adults wish to be happy forever. Here we have everything extraordinary. Think less and enjoy more.
(Anim'Arte NAM VAN) Playground of Lights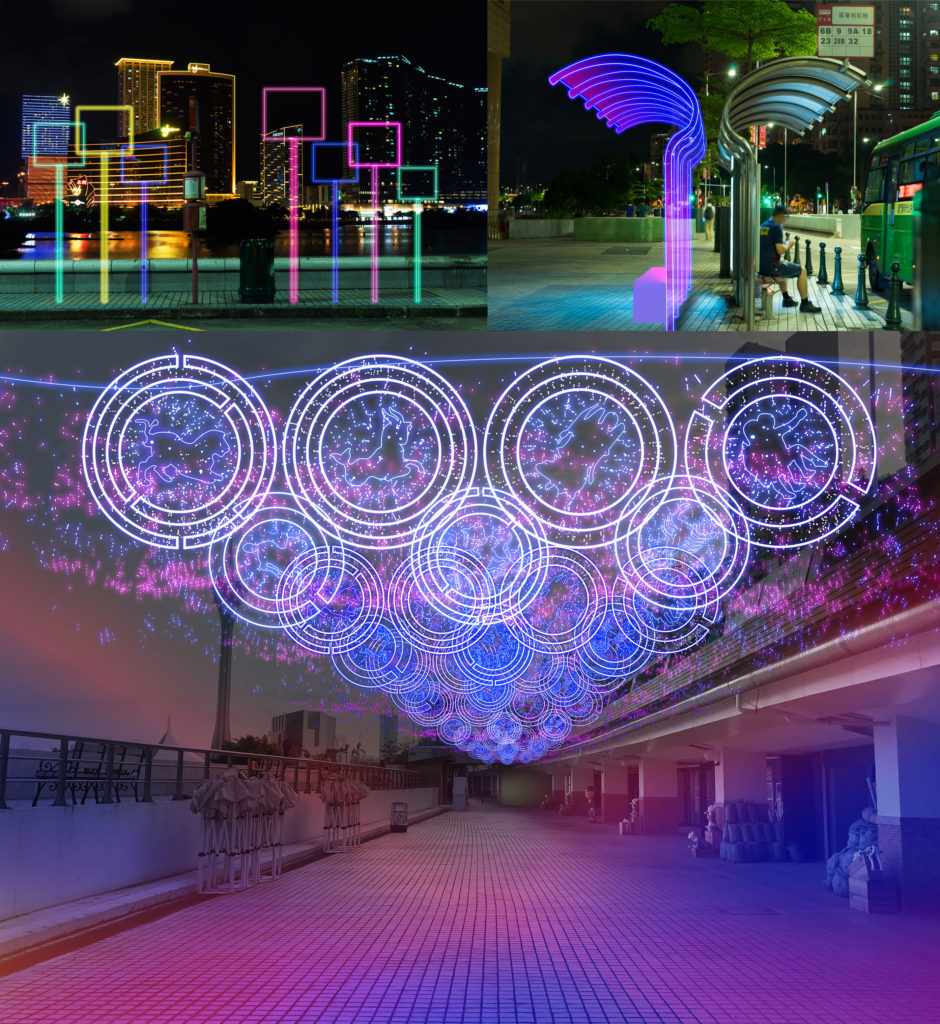 With whom did you go there, how many parks have you two been to, shall we go there again…… Love is all around. We are used to being surrounded by love yet we are so forgetful and timid. As a result, we tend to make friends with bad companions – 'lost'. Let us travel back in time to share and look for the most youthful and energetic friendship with you in this playground at the Anim'Arte NAM VAN. No matter where you are from, as long as we stick together to enjoy the music, the game and to dance, to just have a good time, you will surely feel invigorated. The future is never gloomy, move on, and the path is always there.
(Senado Square) Love Stems from the Heart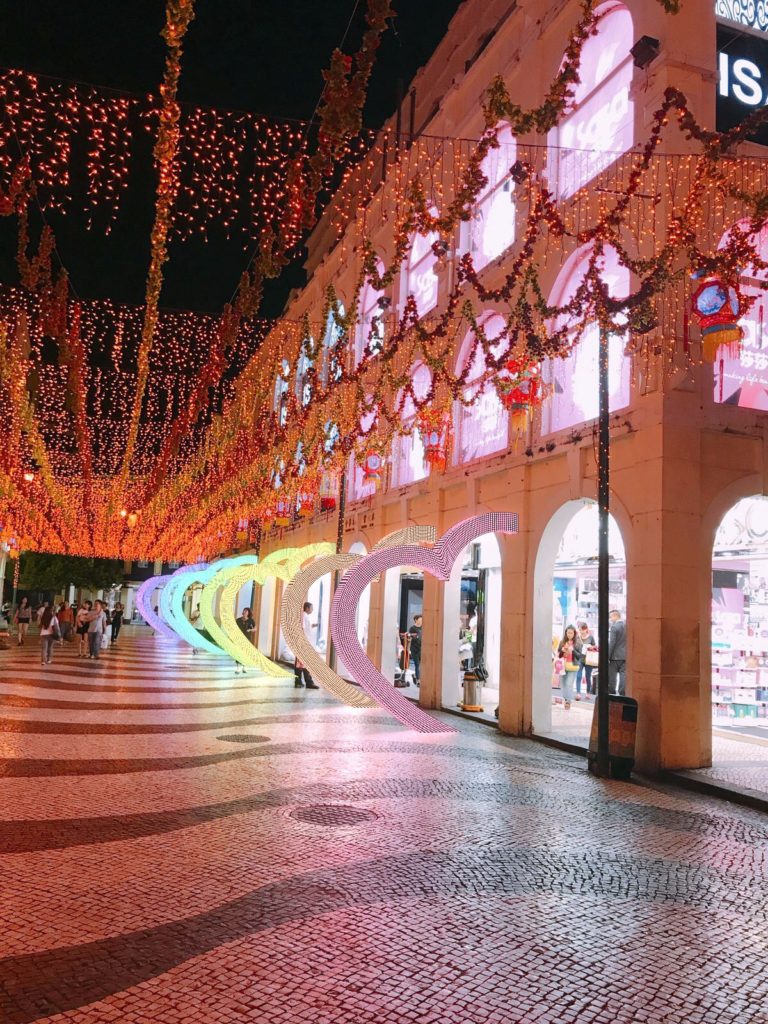 Situated at the heart of the Macao Peninsula, the Southern European-inspired Senado Square is a must-visit on the itineraries of visitors from across the world. Beneath the same starry sky over centuries, this place has witnessed the passage of times, the change of seasons, and the back and forth of passers-by. Love has wiped out the loneliness of the passers-by and saved them from their aimless wander. On the long journey of life, if you are afraid of being incapable of keeping love in your hands, then try putting it in your heart. Pass through the outburst of colours. Immerse in the laughter along the way. Let 'love' and the 'heart' guide you through every journey of life.
(Ruins of St. Paul's) Boundless Love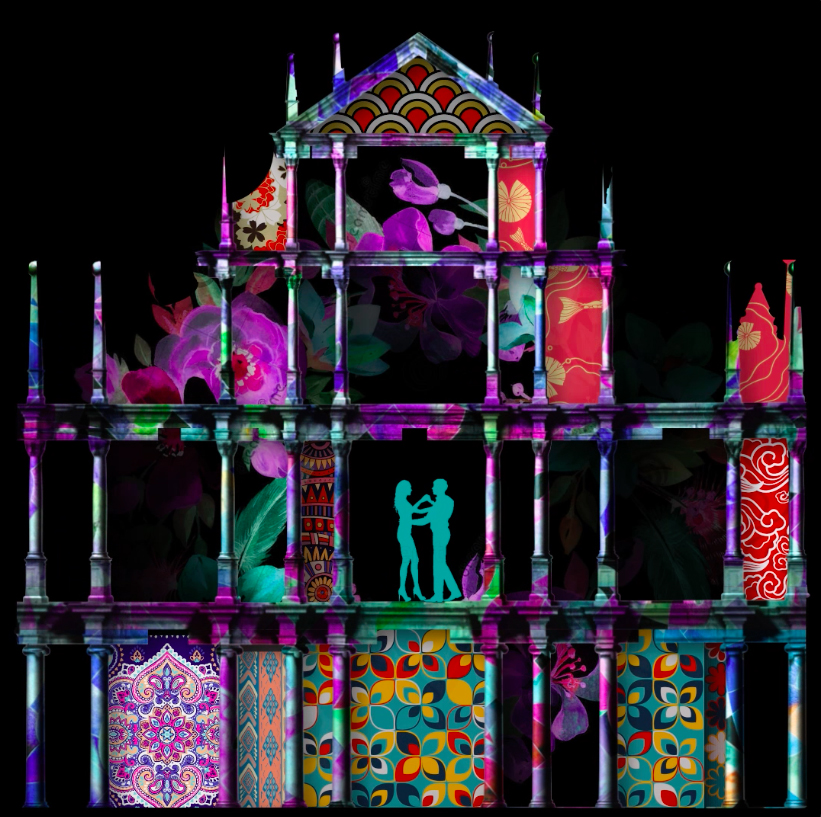 Striding over the changes of times, boundless and endless love is extending to infinity and beyond. Love has merged different cultures, religions and ethnic groups together in this city and has eventually given expression at the Ruins of St. Paul's – formerly the Church of Mater Dei. The façade of the church displays a variety of elements related to the Jesuits, the Maritime Silk Road, Chinese traditions, Buddhism, Japan and more. The love story, combining history and fantasy, will be split into various chapters. The moving story of the love in this city, told via audio-visual mapping show, unveils all the ups and downs and the unknown history of Macao for over 400 years. 'Love' – the most important human emotion- symbolised by the lights on the façade connects the whole story. Macao, having been an important hub on the Maritime Silk Road, was, is, and will always be the shining pearl along this path of love!
Opening Ceremony – Wish-Making Under the Stars
Pick up your pace please. You will never have the chance again if you miss out on the wish-making tonight.
Did you know? The god of destiny gives special preference to those whose hearts are full of love.
See for yourself if you do not believe that. At the staircase, a young lady has already made her wish for love and its growth.
Fairies descend from the sky, riding on the millions of stars under their feet and bringing us love and hope. Young ladies meet young gentlemen, and they fall in love… Feelings of youth, life, joy and hope are in bloom. A beautiful spectacle explodes in the blink of an eye. Their swift and lively dance awakens the sleeping churches; melody emerges from the music box and magical lights take us to another world – it is from this moment onwards that everywhere is filled with love.
Light Dinner
1. JaK's Kitchen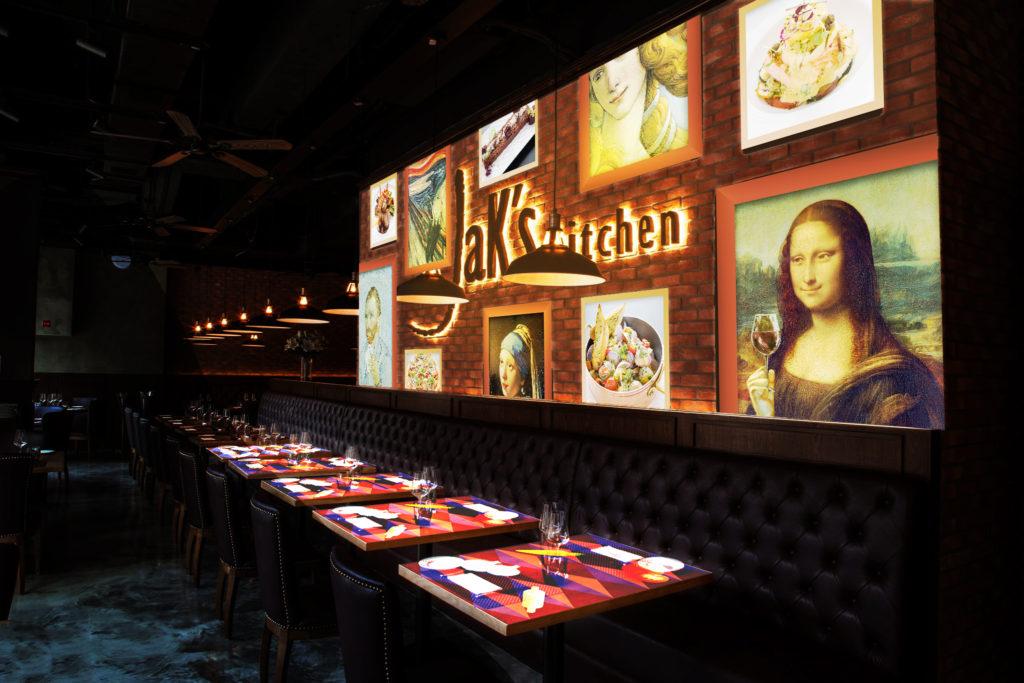 Masterpieces' Dinner
A study in a house is full of materpieces of the Italian Renaissance Art.
In the midnight, those figures in the painting feel hungry, therefore, they go into the gourmet food books in the cabinet to look for the food. This is how the journey starts…
2. Cafe Bonbon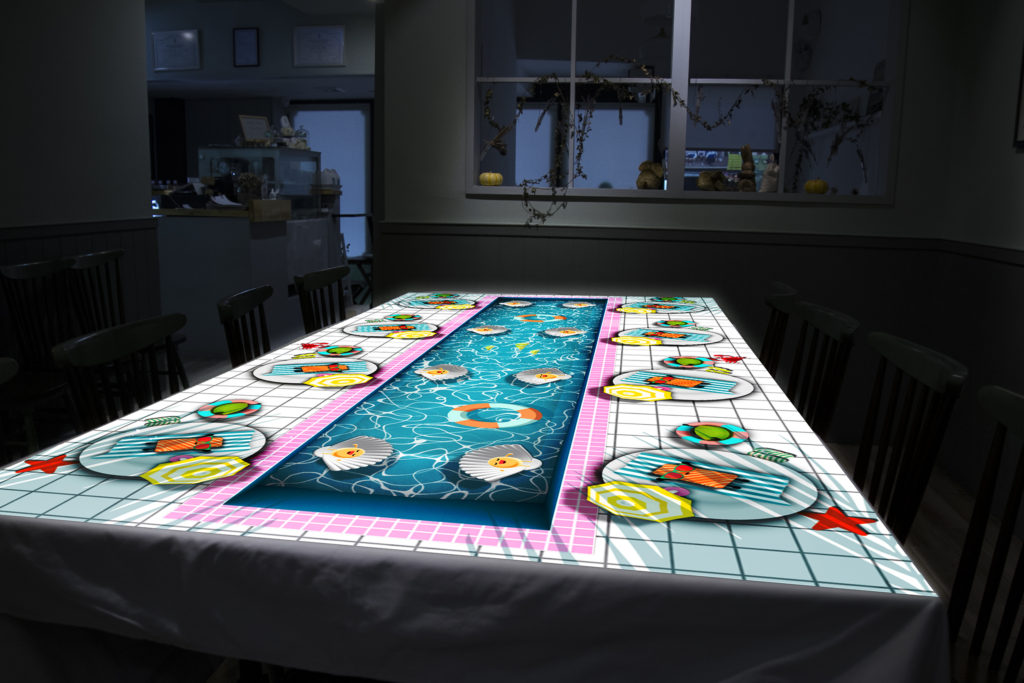 BonBon Appétit
Welcome to Café Bonbon!
Here you can enjoy an entirely new type of dinning experience prepared by our Le Cordon Bleu Chefs and the projection artists from Neba Studio. Every single course delicately designed by the chefs is perfectly matched with the french humor stories among the indegrants. We are sure you will like the delicious food and the joyful meal.
The light in the soul – Light Art Exhibition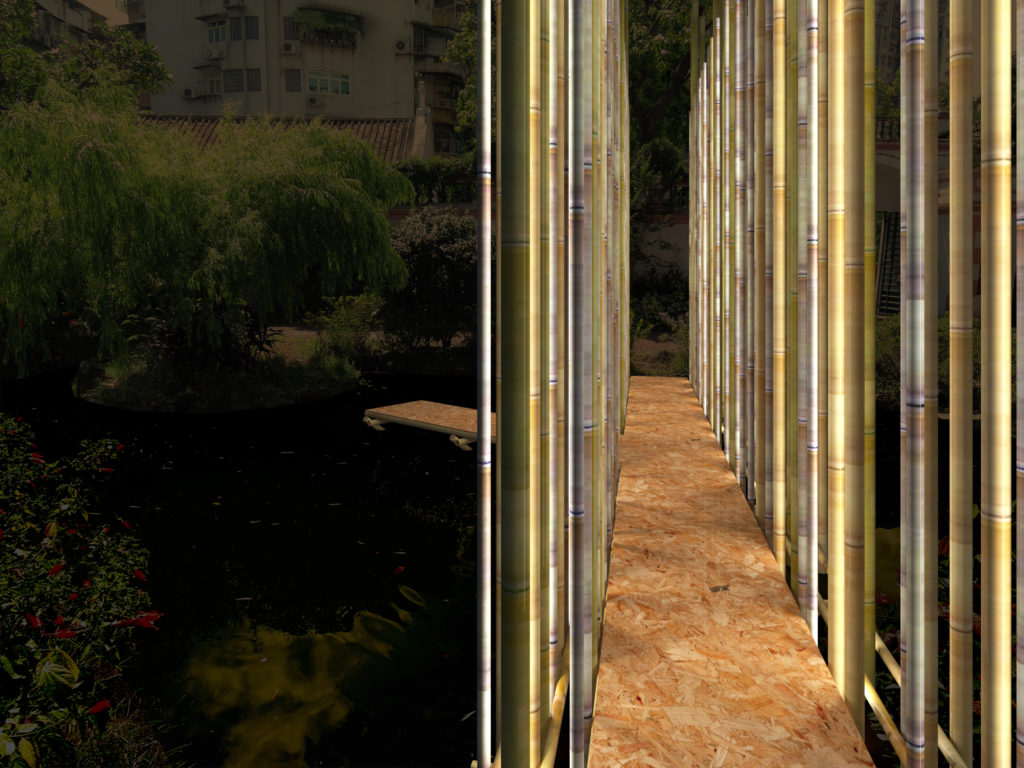 The creative quality of artworks and installations made by contemporary artists cause us to reflect upon the role that light plays in modern society and it's relationship with public and private spaces. Artists convey their ideas by ways of exploring techniques and approaches that have their strength on their imagination and on the way artworks evolve within society exploring deeper connections with the audience. As a medium light is a creative element more and more explored by the artists with innovative unexpected eye-catching results. This exhibition will show 6 artworks from 3 famous local contemporary artists José Drummond, João O, Rita Machado and James Chu.
Exhibition venue: Oriental Foundation (Next To Gamões Garden)
Exhibition Date: 18, Dec 2017 – 14, Jan 2018
Opening Hours: 10a.m. – 10p.m. daily 18-31, Dec 2017
10a.m. – 7p.m. except Mondays 2-14, Jan 2018
Outdoor Movie
Film watching is always a good entertainment option as a pastime and when dating. Under the starry sky, we are going to have a film screening of a local production which has gained recognition outside Macao. Love stories created by locals have a unique appeal. Shall we sit by the lakeside at night and watch a film together under the gentle breeze?
Love in the City, a local production created by the Audio-Visual CUT Association, consists of six short features themed around love affairs and minutiae of the city. Macao is such a small city that any encounter is not necessarily a result of destiny. Is it the experiences of the characters or something else that have linked them together?
Six local directors will introduce you to their world of love, and Soler the twin duo will guide you through every single trace of love in that world. A novel buried in dust holds the seeds of love. A female tailor finds her heart secretly pounding and wonders why. A pair of passionate thick lips loves a sofa at first sight. A security guard decides to search for sweetness after tasting a mysterious cake. A new lover appears but looks like she is from out of this world. A taste of the first love is enough for lovers to take risks… Love comes and goes so fast that the ever-changing city cannot keep up with it. However, a sense of uniqueness sprouts in the love affairs that have taken place here. Love is in the city.
Outdoor Mini Concert
Every one of us has their favourite love song. This evening I want to stay with you sharing our favourites and singing along with the heart-touching lyrics. The love experiences of us all are embedded in the melodies as secret codes played by local singers and musicians. When songs are rendered in a different way and at a different time, they will surely bring you a different kind of feeling, whether they are familiar pop songs or pieces of enchanting jazz music.