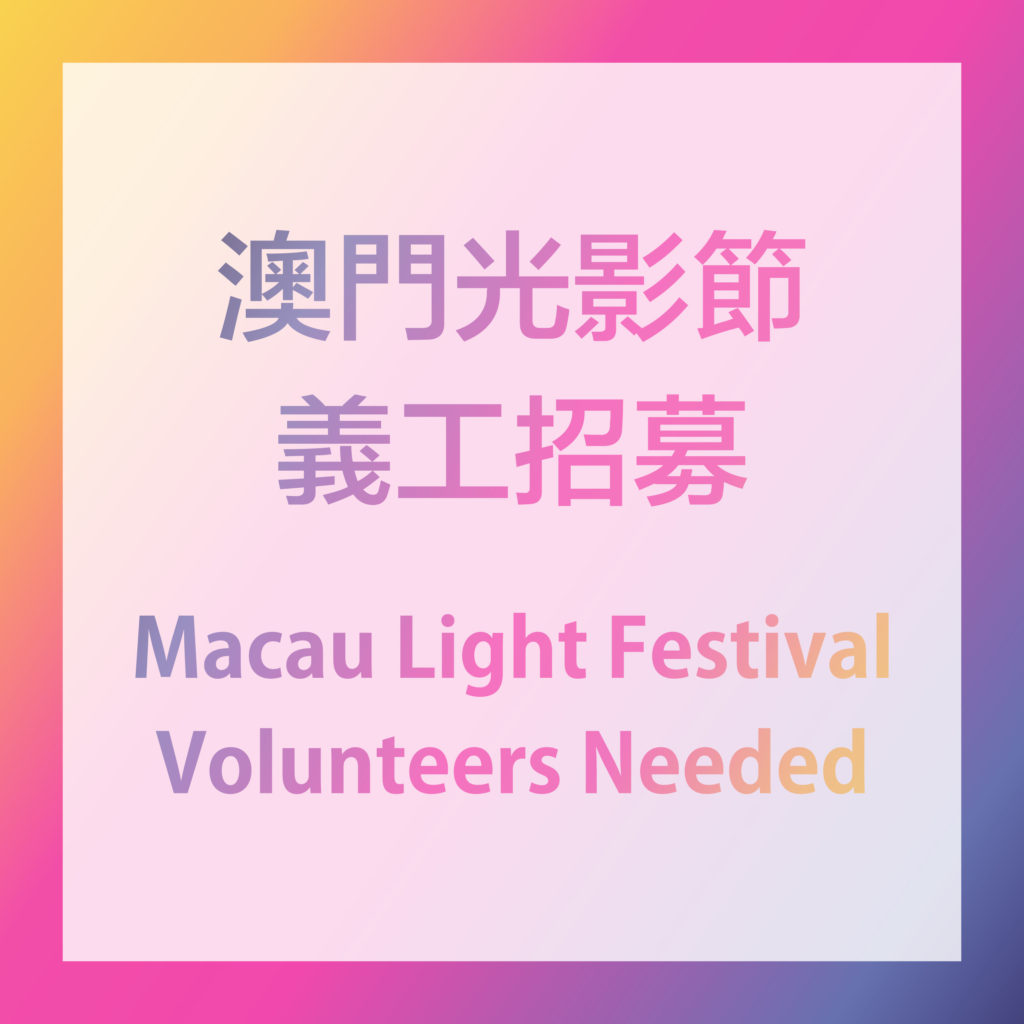 Macau Light Festival – Volunteers Needed
Organized by Macao Government Tourism Office, co-organized by Civic and Municipal Affairs Bureau, Cultural Affairs Bureau and Sports Bureau, the 3rd Macau Light Festival is going to run from 3rd to 31st of December. This year Macau Design Centre teams up more than 20 local creative companies over a hundred local talents to present a tailor-made light festival at 8 locations in our unique city and more…
Apart from being a spectator, we wish to invite you to be a part of our team on behalf of the Macau young generation. Not only can you have a deeper insight in the organization of the whole event, but also benefit a lot from our complimentary trainings. With the experience we create together, we believe you can apply what you learn on both academic and professional fields. What's more, let this year Light Festival shine brighter and fill our citizens and tourists with joy all because of you.
Our Objectives to Team up the Light Festival Volunteer Team:
The volunteer program is specially designed for this year's light festival, aiming to cultivate a group of young generation with working experience on big event by providing them a series of training programs and practice. The volunteer will also be able to know more about the process of organizing and executing the event, the history, culture and art of Macau as well as the basic knowledge of being a volunteer, and the opportunity to exchange and communicate with the local creators. Undoubtedly this will be a valuable experience for the volunteer, especially those who are interested in art and design.
Duty:
To Answer the Visitor's Questions and Provide Assistance
Crowd Control
Venue and Equipment Management
Souvenir Sales and Redemption
Temporary Tasks Delegated by the Supervisors
In Return:
We provide professional training and lectures, certificate, uniform (Jacket and Trainer), beverage and snack , MOP80/day allowance, and an internship certificate will be given to those with more than 80% attendance(including the training) by Macau Design Centre. The service hours can also be counted as a part of the Youth Volunteer Award Scheme by DSEJ.