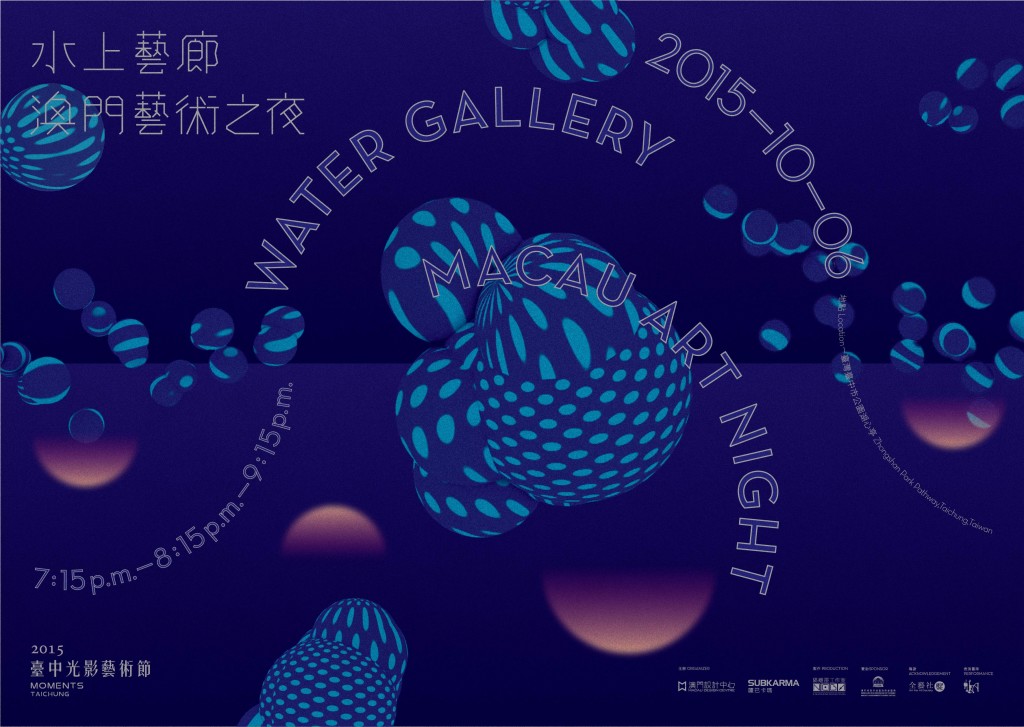 Macau Artists Participate in the 2015 Taichung Light Festival – Moments (Taichung – Taiwan)
Event period: October 3rd – December 13th 
The annual Taichung Light Festival is a new and exciting cultural highlight for Taichung City. Visitors from all around Taiwan and South East Asia are treated to an unforgettable Light and Sound experience which includes giant projections, interactive light installations, musical and dance performances.
First launched in 2013, the Taichung Light Festival was held at the City's historic City Hall. The following year, the festival moved to the new National Taichung Theater and attracted over 500, 000 visitors. One of the highlights, a projection spanning the entire 120 meter façade of the Opera House, was accompanied by a live orchestra performance, including an opera singer. The overall event received acclaim nationwide for its creativity and achievement.  This year, the 2015 Taichung Light Festival will be held in the old historical part of Taichung; in, on and around buildings with tremendous cultural and historical value.
This year's Light Festival promises to be even larger and more spectacular, with five separate 100-year-old buildings being brought back to life through Time, Light and Art. Using a variety of communication methods, such as new media, projection and performance, these landmarks will be brought back to life and their significance enhanced. This festival promises to open up a new dialogue with the Taichung public, using art and light as the main means of communication.
Following on from the success of last year's Taichung Theatre event, Subkarma, one of Taiwan's leading Branding & Design consultancies, has been commissioned for the second year to curate the 2015 Taichung Light Festival. Subkarma is known for being highly skilled in applying creativity, mixed with interaction, performances and new media technology to create unique experiences for a public of all ages to enjoy. One of the highlights of this year's event includes a unique and magical projection show on large helium balloons over the lake of Taichung Park.
Macau Design Centre has been invited by Taichung Light Festival to join the "Water Gallery" Exhibition
"Macau Art Night" is one of the themes for the light show evening which will form part of the "Water Gallery". The aim is to showcase Macau contemporary art to the Taiwanese public and will be held on October 6th, 2015 at 19:15, 20:15 and 21:15 respectively. Artwork that includes a wide range of media, such as watercolor, painting, drawing, photography, sculpture, installation art, and mixed media will be projected for all to see on giant balloons. In all, twenty seven artists from Macau, and their combined 300 art pieces, will be represented during the event. The projection and animation are both produced by a local pr6oduction studio, "Neba Studio", from Macau. The projection will be accompanied by a live musical performance by the Alan International Ensemble from Taiwan. After the evening event, all art pieces will be exhibited in Taichung's Red Dot Hotel until November 30th, 2015.
Aimed at promoting cross cultural understanding, the Taichung Light Festival will introduce many amazing artists from Macau, such as:  Coke Wong Ka Long, Alice Kwok, Mio Pang Fei, José Drummond, Tong Chong, Lok Hei, James Wong, James Chu, Fortes Pakeong Sequeira, Hong Wai, Carlos Marreiros, Lai Sio Kit, Cai Guo Jie , to name a few.
The Macau "Water Gallery" night was partially sponsored by Macau Government Tourist Office.
Taichung Light Festival Facebook:https://www.facebook.com/Taichung.Light.Festival
---
more report