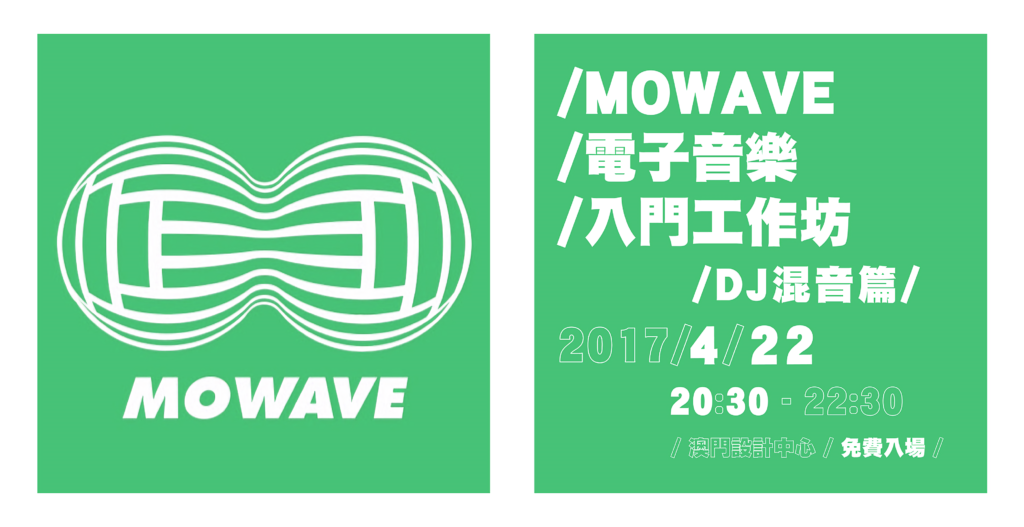 MOWAVE Electronic Music Workshops for Starters Session 2 – "Dj Mixing Techniques"
MOWAVE Electronic Music Workshops for Starters Session 2 – "Dj Mixing Skills" will be held on April 22 at 8:30 pm at Macau Design Centre, free admission!
1) What are DJs doing at large music festivals and parties?
2) Can everyone become a DJ?
3) What equipment do you have to buy? How long will you have to practice?
4) What are the basic tips for DJ Mixing?
5) How to distinguish a DJ's performance from good to bad?
6) After recording a DJ Mix, how to release it to reach more audience?
7) How can I get more opportunities for DJing?
Brief IntroductionThe Macau Electronic Music Association ("Associação de Música Electrónica de Macau", MEMA, is a non-profit organization dedicated to promoting electronic music and its development in Macau.
About MOWAVE
It's a music program initiated by many musicians in Macau. Different musicians based on electronic music, environmental music and experimental music styles, joined forces in 2012 onwards in the name of MOWAVE and held different musical performances in Macau and other countries. In 2015 they published their first music compilation "Mowave: Soundscape".
MOWAVE Electronic Music Starter Workshop Session 2 – "DJ Mixing Skills"
Time: April 22 (Saturday) 8:30 PM – 10:30 PM
Venue: Macau Design Centre – Travessa da Fabrica N0. 5, Macau
Inquiry:6681-9064 / [email protected]
*Free Admission
Keep an eye out for session 3 of these workshops which will be announced soon!