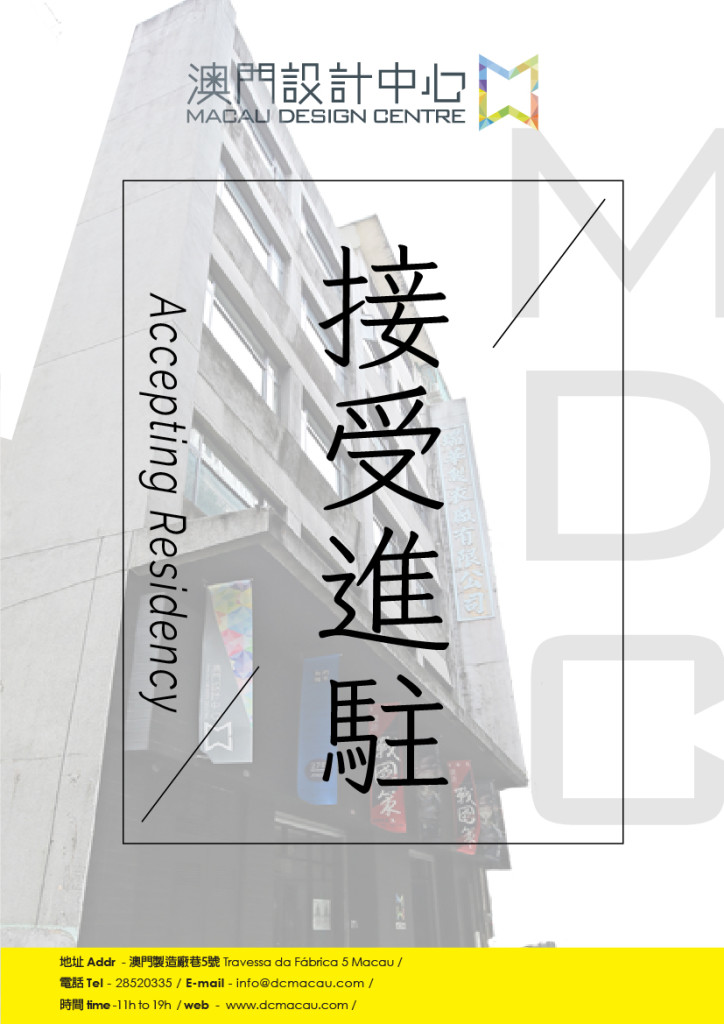 "Macau Design Centre" provides 8 new design studios
"Macau Design Centre" (MDC) is the first integrated service platform which aims to aid local design industry. It has a five-storied building situated at Travessa da Fabrica No. 5, provided 12 design studios on the 3rd and 4th floor at the first beginning, and the rest of the venue are used for other design related activities. The number of the studio increased to 17 due to the large demand of the design companies. However, it still cannot satisfy the market demand, as MDC provides all-round services at a lower-than-market price, spares tenants the burden of high rental and maintenance cost. They can also thrive on the resources of the Centre.
In this August, MDC is going to provide 8 more new design studios for the local design companies. Studio size ranges from 240 ft2 to 1150 ft2 and are complemented with basic design and decoration, lighting and air-conditioning, shared meeting-room, fiber service, reception, security and chargeable printing services. MDC is now accepting the application until July 6. Applicants need to submit application form, proposal and Sales Tax Form M/1 copy, etc. by email to [email protected]. Application form and further information can be found at MDC's website: www.dcmacau.com. MDC will select the potential applicants' base on their business plan and development direction. The selected applicant only need to pay the management fee MOP8.05 / ft2 monthly to use the space and services. The maximum length of lease is three years, during which extension will be reviewed on tenants' annual performance. Please contact Ms. Chan /Ms. Lei at 28520335 or email: [email protected] for further enquiry.
---
Studio application, you need to submit as follows: Must be PDF
1. Application Form* (both sides, must Signature of Applicant)
2. Proposal (including the members of the company, award-winning, involved in activities, performance profile, as well as rental of the work plan  and the future plan of development, more detailed is better for review approval.)
3. Business tax return – M1 Form (both sides)
4. Macao ID card photocopy of the legal representative (both sides)
5. Other relevant information specified in the announcement
More information: Studio
please send to [email protected] and please indicate "Studio application"
More information and news: