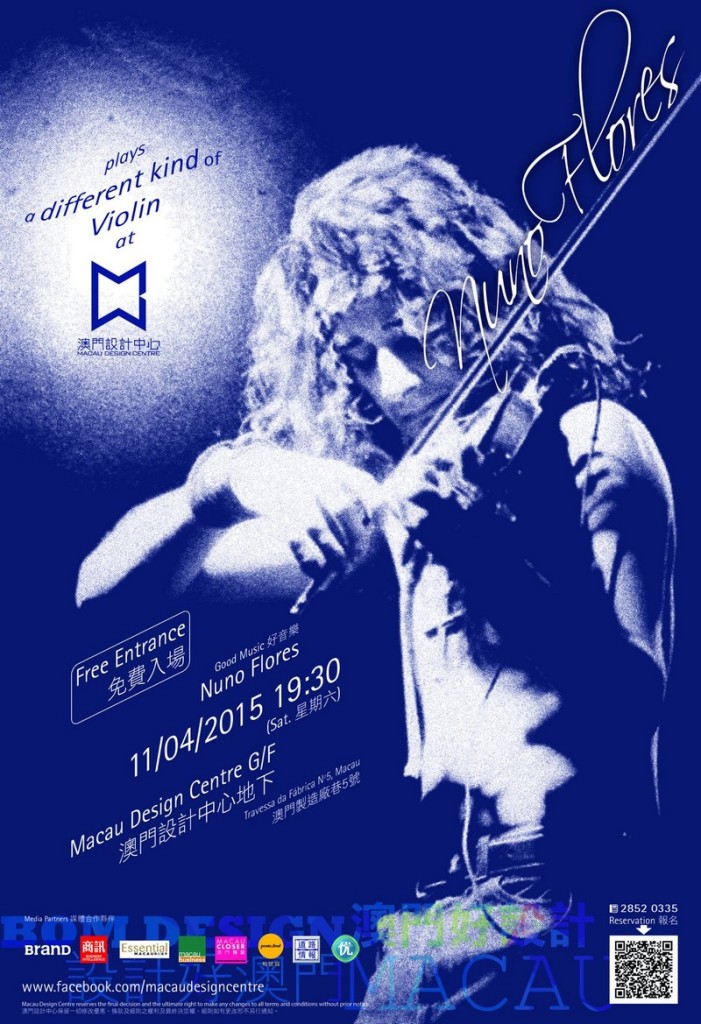 Surprise Concert by Violinist NUNO FLORES
Surprise Concert on Sat ! Free Entry !
Violinist Nuno Flores, who has collaborated with artists such as Carlinhos Brown, David Guetta, Ivete Sangalo, will play in Macau Design Centre this coming Saturday.
Nuno has studied at the National Conservatory of Lisbon and in Musicology at the Universidade Nova de Lisboa. Nuno was part of, among others, the Youth Symphony Orchestra, the Portuguese Musical Youth Orchestra , Calouste Gulbenkian Orchestra and the Lisbon Metropolitan Orchestra.
Among Nuno collaborations are included the participation in the second album of the group Entre Aspas, "Mysterium" by Rodrigo Leão / Vox Ensemble, recorded as a guest musician in the first CD of Moonspell, alsorecorded with UHF six themes and two with Antonio Manuel Ribeiro solo work. He Made several international tours and recordings with singer Paulo Bragança.
From 1993 to 2005 he was a member of the group Quinta do Bill. Often plays in live act with many DJs, highlighting: DJ Vibe, Pete Tha Zouk, Luis Leite in some of the best national clubs such as Lux Fragile, Budha Club, New State, Club W, etc. Mr Flores is founder member of the group Crow.
April 11 2015, Saturday @ 19:30
Macau Design Centre Stage
Free entry
---
More report: