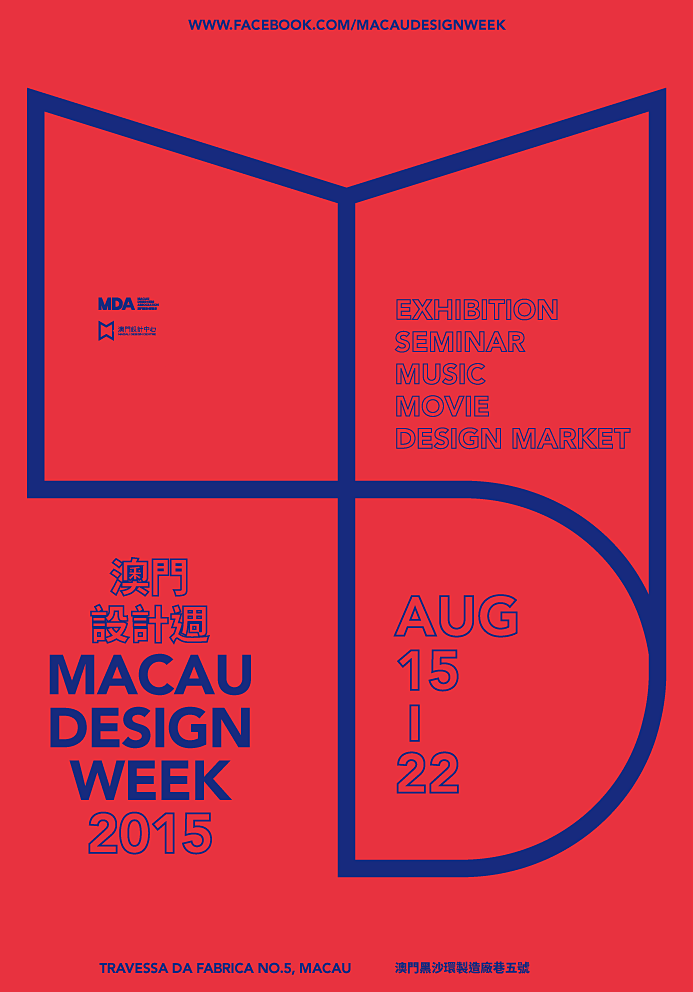 Macau Design Week 2015
Macau Design Week 2015 – Press Release
Opening: 15/08/2015 16:00-17:00
Macau Design Week 2015
Organizer: Macau Designers Association
Co-organizer:  Macau Design Centre
Sponsors: INSTITUTION CULTURAL do Governo da R.A.E. de Macau, FUNDAÇÃO MACAU
Planner: MO-DESIGN
Date: 15/08/2015-22/08/2015
Location: Macau Design Centre
Macau Design Centre
Tel: (853) 2852 0335
E-mail: [email protected]
Website: www.dcmacau.com
Facebook: www.facebook.com/macaudesigncentre
Address: Travessa da Fabrica N0. 5, Macau
With the collaboration of renowned Macau creative companies, Macau Design Centre is going to present the most spectacular summer ever! Instigated and organized by Macau Designers Association and Co-organized by Macau Design Centre, the 1st Macau Design Week will open on 15th August and last until 22nd August. The event is a platform where it offers exhibitions, a design market, films, concerts as well as a place to exchange Design knowledge.
Designers do not simply create beautiful objects to catch people's eyes, but also to interpret their lives, thoughts and experiences while discovering aesthetics. Thanks to the insight of their work it effectively increases social awareness and as a result is a sustainable tool in social and economic development, and ultimately plays a vital function to human beings.
Through series of design sharing and group discussion, Macau Design Week will be an in-depth cover of all areas of Design.
Design Market
Exhibition Date & Time: 15/08/2015 17:00-21:00, 16/08/2015 16:00-21:00
Fee: Free
The highlight of "Macau Design Week 2015" – "Design Market" will take place at the rooftop of "Macau Design Centre" from 15th to 16th of August. Come and enjoy nice music performance, design products, snacks and drinks under gentle breeze in the evening full of creativity!
The short film "Fonting the City" will be played during the Design Market. A number of designers walk around the city to look for the "forgotten typefaces." Among the discoveries are old store signs, handwritten typeface by old craftsmen, even calligraphy on tea menu by the post-80. They begin an adventure in typefaces and aspire to draw people's attention to this oft-ignored aesthetics.
Director_Wallace Chan Producer_Marble Leong
Hong Kong Beiwei Kaishu Exhibition
Date: 15/08/2015 – 18/09/2015
Time: 12:00-20:00
Fee: Free
Hong Kong Beiwei Kaishu is a self initiated projected founded by Adonian Chan from Hong Kong's Trilingua Design. The objective is to reinterpret Hong Kong's Beiwei street signs on the basis of today's aesthetics value and design medium.
Hong Kong Beiwei Kaishu has a long historical context. Beiwei is a stone engraving calligraphy style from "Southern and northern dynasty" (420AD). It was then being reinterpreted by Qing Dynasty calligrapher Zhao Zhiqian (1829-1884), which became a unique and distinctive style. Guangzhou calligrapher Au King Kong (1887-1971) is a zealous practitioner of Zhao's calligraphy style. He migrated to Hong Kong in the 30s, and since has produce prolific works of Beiwei calligraphy for shops, public estates, and even stone engravings. Au Kin Kong developed Zhao's style into a more robust and dynamic structure which is optimal for large display purposes. At the same time, due to Au's costly commission fee, clients with less resource would turn to other less renowned calligrapher hoping for a similar Beiwei style. This phenomenon fostered a unique culture of Beiwei street signs, which also constitute Hong Kong's cityscape of characters.
Macau Design Exhibition
Date: 15/08/2015 – 22/08/2015
Time: 12:00 – 20:00
The Macau Design Exhibition will bring 14 design companies raging from branding, packaging, multi-media and Spatial Design.
Here are the companies, which will participate in the Macau Design Exhibition:
| | |
| --- | --- |
| Company Name – English | Company Name – Chinese |
| BRUNO DESIGN | 般奴設計 |
| CASESTATION | 盤磯廣告策劃 |
| Chiii Design | 之設計 |
| Ideal Design | 室內設計事務所 |
| Lines Lab | 實驗線 |
| McCOW Design | 麥牛廣告製作有限公司 |
| MO-DESIGN | MO-設計有限公司 |
| More than Design | — |
| MUSE-UM.CO | 未可視設計 |
| Novae Production House Co. LTD. | — |
| SHIDU ART CONSULTANTS | 十度藝術顧問 |
| Todot Design | 同點設計 |
| Untitled Lab | 未命名實驗室 |
Seminar
Adonian Chan
Date: 16/08/2015
Time: 15:00-17:00
Fee: Free
Mr. Chan was born in Hong Kong 1986 and graduated from Hong Kong Polytechnic University in 2009. Dedicated Lettering, Graphic designer and musician, he co-founded Trilingua Design with Chris Tsui in 2010 and co-founded a restaurant and cultural space "tfvsjs.syut" with his music group "tfvsjs". Since 2011 Adonian has been researching on Hong Kong BeiWei Laishu. He is now on a process of reinterpreting andredesigning this lettering style under today's aesthetics and technological context.
Joe Kwan
Date: 16/08/2015
Time: 15:00-17:00
Fee: Free
Joe Kwan was born in Hong Kong, finished his art study in UK and obtained the bachelor degree of communication design with distinction in RMIT, Australia. He has been working at Milkxhake and Sixstation, both famous graphic design studios in HK. Subsequently, he established his own Design Studio, called Studio will, and devoted himself to graphic and visual image, including branding, packaging, products, photography, books, etc.
Joe's works have gained numerous local and international design awards including: British D&AD Awards, Australian Graphic Design Association Awards, and Hong Kong Designers Association Awards. He was also titled the "100 outstanding Chinese designers (under 30)" by Shanghai Designer Club in 2012.
He made the best of his creation, serving it as a channel to reflect and express the position of designers in the society. After leaving the designer job, he and his friend established an innovative watch brand. In addition, the brand had raised fund from Kickstarter (the well-known global crowdfunding platform).
Movie
Design & Thinking
Date: 20/08/2015
Time: 19:00-20:00
Ticket Price: MOP$50
"Design & Thinking" is a documentary exploring the idea of "design thinking"!
How do we fully engage organizations to think about the changing landscape of business, culture and society? Inspired by design thinking, this documentary grabs businessmen, designers, social change-makers and individuals to portrait what they have in common when facing this ambiguous 21st century. What is design thinking? How is it applied in business models? How are people changing the world with their own creative thoughts? It is a call to the conventional minds to change and collaborate.
Maker
Date: 21/08/2015
Time: 19:00-20:00
Ticket Price: MOP$50
From the producers of the internationally acclaimed "Design & Thinking," "Maker" is a feature-length documentary that looks into the current Maker Movement in America – a new wave of Do-It-Yourself and Do-It-Together culture fueled by passion and powered by the advent of new technologies.
Electronic Music Closing Party
Date: 22/08/2015
Time: 19:00-22:00
Fee: Ticket at MOP$100 in advance, MOP$120 at door
Co-organized by Macau well-known musicians, DJs and multi-media artists, Macau Design Week is going to present the most spectacular electronic music closing party!
Founded by various local music artists, MOWAVE, is a music project which embraces from electronic, ambience to experimental dance music. The MOWAVE music crew held various parties and performances since 2012, and released its first compilation album "MOWAVE: Soundscape in 2015.
Ticket Package
MOWAVE + "Design & Thinking" + "Maker"
Fee: MOP$150
Remarks: One free drink is included
Ticket center: Travessa da Fabrica No.5, Ground Floor Reception
Ticketing Enquiries: (853) 2835 7821
---
More Report: