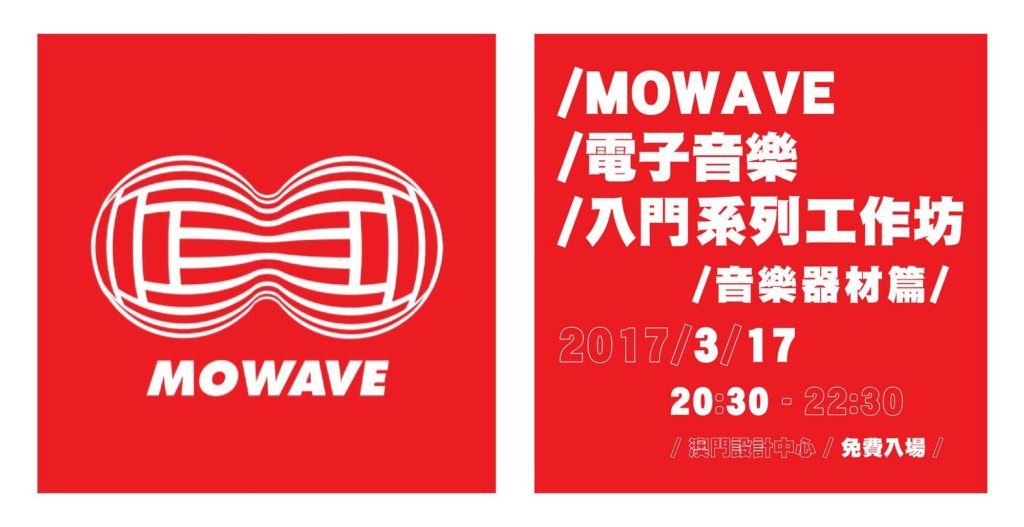 MOWAVE Electronic Music Workshops for Starters Session 1 – "Musical Instruments"
MOWAVE Electronic Music Starter Workshop Session 1 – "Musical Instruments", will be held on March 17 at 8:30 pm at the Macau Design Centre, free admission!What is electronic music? Is it the most fashionable form of music? Do you only need to press a few keys during the show? Want to know about electronic music and how to play it? A number of members of the local electronic music organization MOWAVE will introduce some of the music equipment in electronic music, including electronic synthesizer, drum machine, etc., to bring you the most basic knowledge!
Brief Introduction
The Macau Electronic Music Association ("Associação de Música Electrónica de Macau", MEMA, is a non-profit organization dedicated to promoting electronic music and its development in Macau.
About MOWAVE:
It's a music program initiated by many musicians in Macau. Different musicians based on electronic music, environmental music and experimental music styles, joined forces in 2012 onwards in the name of MOWAVE and held different musical performances in Macau and other countries. In 2015 they published their first music compilation "Mowave: Soundscape".
Details of the second session, "Dj Mixing Techniques", and the third session, "Music Production", will be announced soon!
Acknowledgments: Macau Electronic Music Association, Cultural Affairs Bureau of the Macao S.A.R. Government
MOWAVE Electronic Music Workshops for Starters Session 1 – "Musical Instruments"
Time: March 17 (Friday) 8:30 PM – 10:30 PM
Venue: Macau Design Center (Travessa da Fabrica N0. 5, Macau)
Inquiries: 6681-9064 / [email protected]
*Free Admission