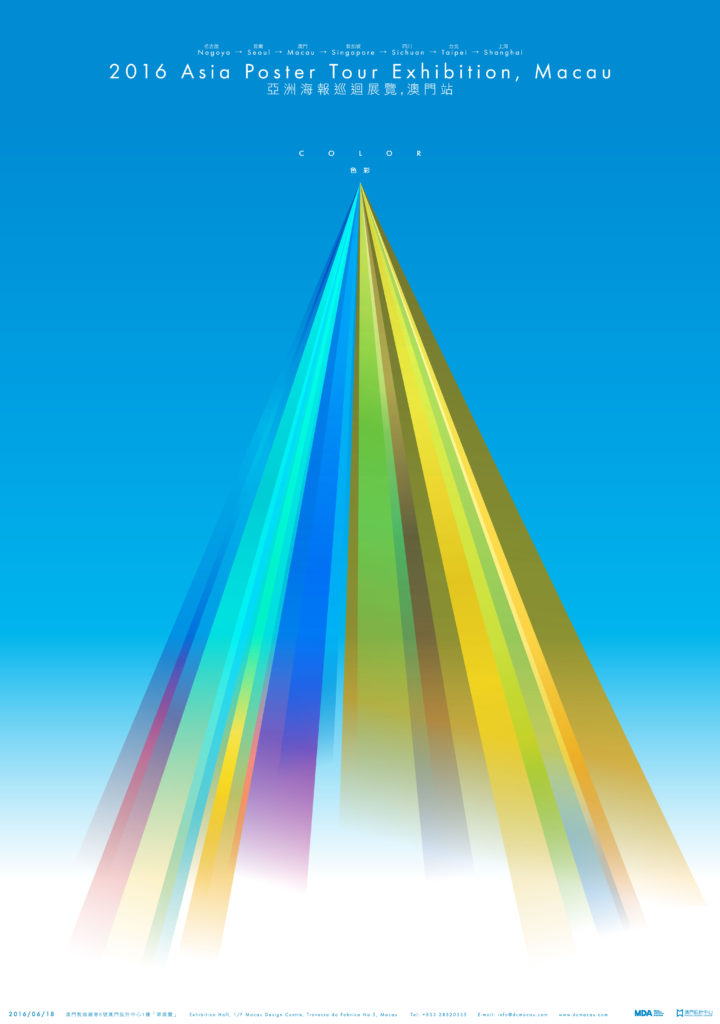 "COLOR" 2016 Asia Poster Tour Exhibition, Macau
"COLOR"  2016 Asia Poster Tour Exhibition, Macau
"COLOR"  2016 Asia Poster Tour Exhibition, Macau which was organized by Macau Designer Association and Macau Design Centre, will be opened at 5pm on June18 in Macau Design Centre. The exhibition will be a permanent exhibition in Macau design Centre after.
Initiated by famous designers Kyoji Kotani( Nagoya, Japan), Kumnam Baik ( South Korea), Apex Lin Pang Soon(Taiwan), the Asia Graphic Design Alliance invited professional designers from Japan, Korea, Taiwan, Mainland China, Macau, Singapore to join and create the works with the theme of 2016 , "color". This is the first Asia poster tour exhibition which requests one representative from each country or region to organize the local designers to create the works and curate the exhibition.  A total of 268 pieces of poster were created and then exhibited at the International Design Center in Nagoya on April 6 and at the Design Center of Seoul National University on May 18. After the exhibition in Macau Design Centre in Jun, it will go to Temasek Polytechnic(Singapore) in August, Shigeo Fukuda Design Museum(Taiwan) in Oct, Shanghai Design college of China Academy of Art in Nov.
Together with the 30th anniversary of Macau Designers Association, besides holding the "color" 2016 Asian Tour Poster Exhibition , Macau, several excellent  exhibitions and events will be organized in this year , including "This is my Street", " Macau design week 2016 "," Macau Design 30th Anniversary Poster Exhibition "," Macau and Taiwan new Generation design exhibition "," A Vibrant Transformation ‧ A Meticulous Masterpiece-The 3rd Greater China Illustration Awards Macau Roving Exhibition".
For inquiries please call: 28520335 or email to: [email protected] You can also find detailed information on website of Macau Designers Association
"COLOR"  2016 Asia Poster Tour Exhibition, Macau opening Ceremony" will be on June18th 2016 at the first floor of the Centre's building.
Macau Design Centre cordially invites the press to attend the opening. More information and press release about the exhibition are enclosed
"COLOR"  2016 Asia Poster Tour Exhibition, Macau"Opening
Date: June18th 2016 5pm
Venue: Macau Design Centre ( Travessa da Fabrica n5, Macau)
Speech: Mr, Chao Sioleong , Director of Macau Designers Association)
Guest: the Head of the Department for the Development of the Performing Arts of the Cultural Affairs Bureau, Ieong Chi Kin
The Associate Professor Patrick Lei, Programme Coordinator of the Design programme
Mr, Chao Sioleong ,the Director of Macau Designers Association
Mr,Dirco Fong, the CEO of Macau Design Centre
4 Japanese guests
Contact Person: Ms Chau/ Ms Lei
Phone: 28520335
E-mail: [email protected]
Exhibition Venue: Macau Design Centre, Travessa da Fabrica No. 5, Macau
Exhibition Opening: 5pm, June 18, 2016
Exhibition Date: Permanent exhibition
Exhibition time: 11:00am to 7:00 pm (Closed on Mondays)
---
More report: