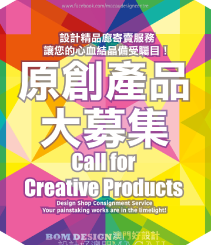 Call for creative products
MGG creative store — unique and efficient selling and promoting platform
Our consignment services are now calling for local original and creative design products, whether it is an independent creator or team, we welcome you to join us in MGG creative store, and build up a creative industry belongs to everyone.
After summiting your design products, you might be able to get a chance to show your unique design in our design gallery for free. The sales share obtained by consignment and will be settled on a monthly basis.
What kind of design products can apply?
• Macao original design 
• High quality 
• Creative and fit customer needs
If your product meets these requirements, please call us at 2852 0335 or email [email protected].
A number of original brands in Macau have been stationed and we offer different types of consignment as well.
Macau Design Centre offers a wide range of design exhibitions, courses, performance, coffee shop and reading area, we are trying our best to provide the best experiences for our visitor. Our design gallery often exhibits well-known international design and unique local creation from Macao; Macau Design Centre also corporate with Beijing tmall online shop which will help our local products to be seen internationally.